PWO-600L bag palletizer is the latest appliance in the series of palletizers produced by Drewmax company. The construction of this machine was created in 2014. This compact appliance may be of use in all places where there is no room for bigger palletizers and the required capacity does not exceed 600 batches per hour, as this is the capacity of the presented palletizer.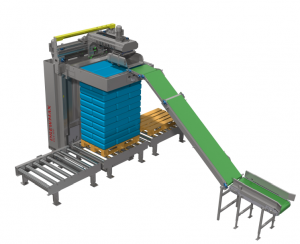 Mobility is the basic advantage of this model. It means that the appliance is delivered as an independent palletizing device and may be placed next to any packaging line. PWO-600L bag palletizer is adapted to 'plug&play' work – the machine delivered by our company can start palletizing on the very same day – we avoid costly assemblies and long-time commissioning of the appliance.
In 2014, the appliance was granted a patent number P.408680.
Basic technical parameters:
Number of pallets in the accessory storage (option) – 16 pieces
Maximum bag weight – 25kg
Capacity: about 600 bags/hour
10 sets of packaging laying
Installed power: 4kW
Supply voltage: 3x400V; 50Hz
Air supply: 6-10bar
Air consumption: 200Nl/min